Patient Care Delivery Under Scanner: Cancer Care
The most common types of cancers in the GCC include breast and colorectal cancer, followed by prostate and thyroid cancer.
Contributors:
Dr. Ahmed Qannita
Saranya Balijepalli
Cancer is widely recognized as the costliest illness and a leading cause of death worldwide. The volume of patients, across the world and in the GCC, is continuously increasing year on year owing to aging population, as well as increase in risk factors which are linked to social development. Additionally, costs are increasing especially with new trends in treatment ranging from chemotherapy, immunotherapy, radiotherapy to personalized (or precision) medicine. By the year 2031, the number of prevalent cases of cancer in the GCC is estimated to increase by 19% with a compound annual growth rate (CAGR) of 1.3%. Other studies estimate a higher CAGR of 5%, which means the need for cancer care has never been more important.
Estimated Prevalence of Cancer Cases in GCC Countries

Source: Forecasted based on 2020 Prevalence data from Globocan - International Agency for Research on Cancer
The most common types of cancers in the GCC include breast and colorectal cancer, followed by prostate and thyroid cancer. Based on JLL estimates derived from published literature and detailed discussions with clinicians and other subject matter experts in the region, it has been noted that most breast, and colon cancers, benefit from chemotherapy and radiotherapy, however, 65-70% will require surgery. Combining treatment modalities according to guidelines and tumor board census is linked to better prognosis and outcomes. 
The region sits on a considerably low ratio of Linac machines to a million population. For example, Saudi Arabia's Linear Accelerator machines are at a ratio of 1.1 to 2 (according to different sources). That means there is a large gap in supply compared to European benchmarks:
Estimated Need for LINACs in GCC

Ratio of Linac to Million Population based on existing supply trend, and benchmarked to both western and eastern European ratios provided by Radiotherapy Age Profile & Density December 2019 Edition, COCIR, the European Coordination Committee of the Radiological, Electromedical and Healthcare IT Industry. 

Looking for more insights? Never miss an update.
The latest news, insights and opportunities from global commercial real estate markets straight to your inbox.
Cancer Patient Journey:
The journey of a cancer patient is exhaustive and demanding for, both, the patients themselves as well as the health system. Below we explain the end-to-end patient journey, along with the critical areas and technologies that bring value in the treatment journey: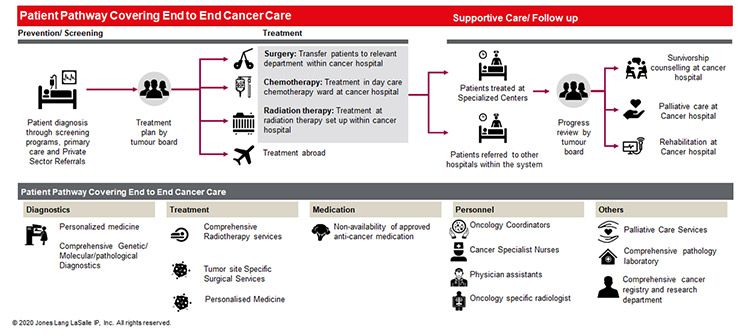 Source: Primary Research & JLL Analysis 
Challenges for patients and for healthcare systems in GCC:
It is notable that the availability of advanced technology and medical care is mainly in central cities like Riyadh, Dubai, Abu Dhabi, and Kuwait. Access to this type of technology is considerably limited in the peripheral areas of the GCC, and that creates the challenge of fragmented care. In addition, some parts of cancer care such as surgery and some types of chemotherapy may be available with private healthcare providers yet there is a lack of comprehensive care, and the gap is mainly evident in radiation therapy.
Patients are facing challenges during their journey, and it includes:
(1) Access: Since remote areas are not very well covered by specialized manpower and equipment this has led to delays in detection and high incidents of misdiagnosis of cancer.
(2) Cost of care: Cost of cancer care is comparatively large, and the private insurance limit is usually consumed in the very early stages of the journey.
(3) Awareness: The public knowledge of cancer is better now than it was in the past, however, it is still deficient. Lack of awareness about the need for early detection and screening gets in the way of diagnosing the disease at the right time, and therefore having better chances of survival and clinical outcomes. Many of the cases diagnosed today in the region come at a non-curable stage, and at rates that are higher than global averages. It is also thought that the low number of cases in the GCC compared to developed countries may be attributed to the lack of sufficient early detection and diagnosis efforts.
For healthcare systems, the largest known gaps in service and infrastructure for cancer care are (1) availability of advanced diagnostics such as PET scans and nuclear medicine, (2) availability specialized and advanced chemo/immunotherapy, as well as (3) radiotherapy infrastructures. Current data confirms the scarcity of services - although improving year on year, it still needs growth to meet with the current demand.
The Way Forward:
Private Public Partnership model is bringing about a new approach to tackle the challenge of high cost and complex operability of cancer care, and it can serve as a tool to improve the quality of care and increase the capacity.
Cancer prevention and control efforts when sufficient should play a role in reducing the incidence and improving clinical outcomes and prognosis of cancer patients through prevention and early detection, especially for silent asymptomatic types of cancer that mostly present at a later stage.
Satellite Cancer Centers & Referral Networks, in remote areas that cover most of the treatment, can be done locally without the need for continuous travel of patients outside the central cities. This helps maintain a good quality of life and ensures patients have access to family support which is of high value during sickness.
Precision Medicine and Artificial Intelligence-based solutions create a promising modality that helps in directing care towards the maximum desirable outcome based on clinical evidence, which reduces the need for trial-and-error with multiple treatment modalities. As AI solutions maturity is not yet complete, they bring a promising future in the field of cancer care.